Yesterday Enzo and I had a park date and I knew that we would end up strategically staying there till his nap time in the hopes that he would fall asleep in the car on the way home. I thought I had to take lunch but found out that I actually didn't because the city brings free lunches to the parks EVERYDAY in the summer. I'll leave that for a future post about why I want to live here forever but will never be able to afford it.
I got a cute Bento box from my friend who went to
Japan
earlier this summer to visit my sis-in-law who makes very cute
Bentos
herself.
I made
my first Bento
a while back and wasn't set on doing it again. It seemed like a lot of time and energy trying to make food look like Japanese stationary. (btw that is not my Bento on the picture below in case you had any doubts of my poor bento making skills)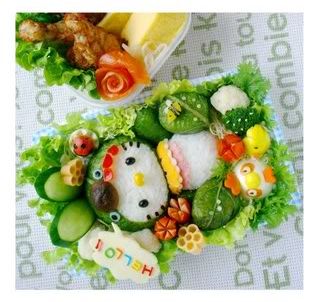 I then met Biggie from
Lunch in a Box
and am now fascinated once again about bentos. NOT time consuming bentos, that is. She even had a great post about using
Brazilian food for bentos
. Which I will have to try sometime next week when I have a bit more time to make salgadinhos (appetizers).
Yesterday's bento was simple. No cutting out fruit leather into heart shapes like last time! This time I just made rice and used the rice molds that I already had . I make chicken with pineapple and used my new little animal skewers to keep it together. I also had carrots, banana, and orange on the top part of the bento. Enzo was totally into the rice and eating the chicken and pineapple from the skewers. Not so into the carrots and fruit. Maybe if I had skewers for that too he would like it. Next time I'm in San Francisco I need to go get some more skewers and maybe some other bento gadgets in case I decide to make him bentos when he's off to preschool in the fall.