We've been having lovely weather and today was no exception. It was so warm during dinner time that I decided we needed something refreshing to cool us down. This recipe is a variation from the
Fruit Cookbook
. This is one of my favorite cookbooks, even though I don't use it as often as I would like. However, it's given me so many good ideas on fun things to make with fruit. You could probably find it in your local library or get a used copy for .99 cents at Amazon.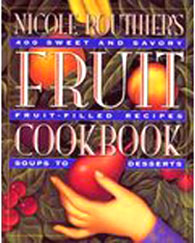 SPRING TIME SALAD
1 pound small scallops
salt and freshly ground black pepper
1/4 cup fresh lime juice (about 3 medium limes)

1/4 cup Thai fish sauce
2 tablespoons (firmly packed) light brown sugar
2 teaspoons minced garlic
1 cucumber, peeled, halved, seeded, and thinly sliced
1/2 of one cantaloupe, halved, seeded, peeled and sliced
1/4 cup dry roasted peanuts coarsely ground
1/4 cup shredded fresh cilantro leaves
Rinse the scallops and place in a cookie sheets. Season with salt and pepper and broil for 10-15 minutes, stiring ocassionally.

While the scallops are broiling mix in a medium size mixing bowl the lime juice, fish sauce, brown sugar, and garlic and refrigerate.
When the scallops are ready remove them from the cookie sheet and place them in the fridge for a couple minutes so they can cool down.
Stir the peanuts and cilantro into the dresssing

In a salad bowl mix the cucumbers, cantaloupe, and scallops and then spoon the dressing over the salad.